Porcelain Veneers Repair and Replacement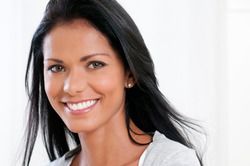 Porcelain veneers are built to last, and in a perfect world, every patient would be able to maintain them for a lifetime. But the real world is full of unexpected bumps and surprises. With the wear and tear of everyday life, the average porcelain dental veneer lasts around ten years before needing to be replaced - but chipped or broken dental veneers from an accident can require attention much sooner. When this happens, it is time to consider porcelain veneer repair and replacement strategies from Knoxville dentist Thomas Zarger.
Can My Porcelain Veneers Be Repaired?
Having porcelain dental veneers applied for the first time can be an intense and expensive process. When an injury or accident leads to a broken veneer, the thought of having it replaced completely can be stressful. But it is possible for a broken porcelain veneer to be repaired without having to remove and replace the veneer completely.
Repairing a porcelain veneer works much in the same way as a tooth-colored filling, with your cosmetic dentist using a bonding process to repair the broken veneer with a fresh layer of tooth-colored composite resin. Because it is much less labor intensive and fewer materials are involved, having a porcelain veneer repaired can be a much more economical option for patients. With that said, this process works best on veneers that have only been chipped or cracked and not broken or worn down completely. In the case of more serious damage, a full replacement is most often recommended.
Do My Dental Veneers Need to Be Replaced?
Porcelain veneers that are chipped, cracked, broken, or worn down are obvious candidates for replacement. But those are not the only signs that you may need to talk to your cosmetic dentist about porcelain veneer replacement. You may also consider replacing dental veneers in such situations as improperly sized porcelain veneers that fit poorly and cause dental pain, or improperly applied veneers that have failed to adhere and are falling off. These can be common problems among cosmetic dentists that are not highly skilled in the production and application of porcelain veneers. Dr. Zarger and his skilled staff can assess such issues and determine whether replacement is in order.
Is My Porcelain Veneer Replacement Covered By Insurance?
One issue that many patients face when having porcelain veneers placed for the first time is the fact that many dental insurance providers refuse to cover the procedure, considering it to be primarily cosmetic. This is not always the case for porcelain veneer replacement. All of the preliminary dental work that is done to accommodate veneers means that is not possible to return to using one's natural teeth once dental veneers have been worn out - replacing old veneers becomes a necessity to retain the ability to perform everyday functions like chewing and talking. While the initial placement and application of porcelain veneers is often not covered by dental insurance, providers may make allowances for veneer replacement if you can show that the veneer requires replacement because the underlying tooth has developed decay or a fracture. As always, be sure to talk with your insurance provider and your cosmetic dentist before deciding on a course of action.
Contact Your Porcelain Veneer Specialist Today
Your first commitment to porcelain veneers was a commitment to a beautiful smile - chips and cracks don't have to mean that your commitment is over. Contact the office of Thomas G. Zarger, Jr, DDS, today to schedule a consultation and discuss how you can have your porcelain dental veneers restored to their former brilliance.
Related to This