Eight Questions to Ask Your Cosmetic Dentist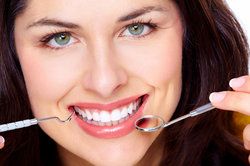 If you feel unhappy with the appearance of your smile, seeking out a respected cosmetic dentist is your best option to improving the look of your teeth. However, all cosmetic dentists do not offer the same treatments, use the same tools, or share the same outlook on cosmetic dentistry. In fact, there is no particular standard that deems a dentist a "cosmetic dentist," so you should feel free to ask a variety of questions. By determining whether your cosmetic dentist is patient-focused, educated, experienced, and offers the treatments and options you desire, you can form a trusting relationship, while working toward the smile of your dreams. In this blog post, Knoxville dentist Thomas Zarger reviews the questions you should ask your potential cosmetic dentist.
1. Which treatments do you offer?
You should first ask your cosmetic dentist which types of treatments are available. If you are looking specifically for porcelain veneers, for example, but your dentist does not offer veneers, you may need to look for a different dentist. However, in certain cases, your dentist will offer you satisfying alternative solutions. Always ask first, so the dentist can recommend a treatment plan that suits you.
2. For which treatments am I a good candidate?
Your cosmetic dentist knows the ins-and-outs of candidacy for different treatments. You, however, may not have such a strong grasp on the details. To ensure you achieve the results you want, find out which treatments will work for you - your dentist may suggest something you have never even considered. For example, if you want whiter teeth, but you primarily have prosthetic teeth, you will need a treatment other than teeth whitening, which works only on natural teeth.
3. Can I see some of your before-and-after photos?
A reputable cosmetic dentist will be more than happy to show you evidence of his or her good work. By asking for before-and-after photos, you can see your dentist's cosmetic skills firsthand to determine whether you like or dislike the finished product. In addition, feel free to ask for past patient testimonials or contact information, to solidify your confidence in your dentist's work.
4. What if I want to treat more than one imperfection?
If you have a straight, beautiful smile, but you simply want teeth whitening, you are treating a single imperfection. However, if you wish to address two or more issues, such as teeth chips, mild misalignment, and yellowing, your cosmetic dentist can take care of multiple concerns. Look for a dentist who responds by offering you a smile makeover. This is a personalized care plan that combines two or more treatments for your most beautiful smile.
5. Can you straighten my teeth?
Many cosmetic dentists offer teeth-straightening options, such as Invisalign®. However, not all cosmetic dentists offer treatments for misalignment. If a straighter smile is your goal, make sure you ask this right away.
6. How much experience do you have as a cosmetic dentist?
There is no set industry standard that designates a dentist a certified cosmetic dentist. In order to determine how much experience your dentist has in cosmetic dentistry, simply ask. A dentist who takes continuing education classes, and one who can show you a portfolio spanning several years, is a good bet.
7. Can we discuss my questions and concerns before I make a decision?
If you want to ensure you achieve the smile you have been dreaming of, make sure you have selected a cosmetic dentist who has your best interests at heart. A good dentist will strive to provide you with a comfortable visit, and one-on-one attention, so you feel good about your decisions.
8. Do you offer payment options or financing?
Whether you don't have insurance or your insurance does not cover your cosmetic treatment, you deserve to have the beautiful smile you desire. However, ensure ahead of time that your cosmetic dentist provides a payment option that works for you, so you can comfortably afford your new smile.
Find a Cosmetic Dentist
Smiling is the way you share joy with those around you, so you should feel confident and happy to put it on display. For a more beautiful smile you can feel proud of, contact an experienced cosmetic dentist today.
Related to This