Causes of Gum Recession and Treatment Options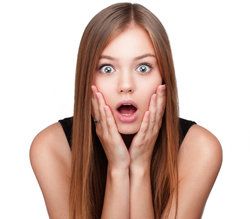 The health of your gums can be just as important to your smile as the health of your teeth. When gum tissue is lost, the balance and even the color of your teeth can be affected, negatively impacting your smile. Furthermore, severe gum recession can expose roots and loosen teeth, possibly contributing to tooth loss. By understanding the causes and risks of this problem, you can take preventative measures against it. Moreover, if you notice your gums slowly pulling away from teeth, our Knoxville general dentistry practice can provide the right treatment to stop recession and even restore lost tissue.
Causes of Gum Recession
The most common reason for gum recession is gum disease. Gum disease is the result of a bacterial build-up along the gum line, resulting in inflamed and damaged tissue. Like tooth decay, gum disease is an infection that can be treated, but it is unlikely that decayed tissue will grow back on its own. Therefore, the prevention of gum disease is the number one way to keep gums healthy and full. Although gum disease is generally caused by insufficient dental hygiene, additional factors may contribute to it or to gum recession directly:
Genetics: Unfortunately, some people are more congenitally likely to develop gum disease, even when employing good, regular hygiene.
Tobacco use: Smoking and chewing tobacco can damage gums on their own while also raising the chances of developing progressive gum disease.
Brushing habits: Brushing too aggressively or with a hard-bristled toothbrush can lead to the abrasion of teeth and gums.
Mouth piercings: A piercing in the lip or tongue may cause frequent irritation of gum tissue, causing it to erode.
Female hormones: Hormonal changes in women, such as during adolescence or pregnancy, may increase the likelihood of gum recession.
Teeth under pressure: When extra pressure is frequently exerted upon teeth, it can weaken nearby tissues and lead to gum recession. Reasons for such pressure include crowded teeth or bite misalignment, as well as habitual teeth grinding at night.
Symptoms of Gum Recession
Gum recession tends to happen so gradually that patients do not notice it at first. However, when gums recede to the point where the roots of teeth start to become exposed, symptoms are more prevalent. First, the gum line will appear lower and more uneven due to the varying rates of recession in different areas. This will also cause teeth to appear longer. As roots becoming increasingly exposed, teeth will become sensitive and yellowed near the gum line. With further recession, teeth may loosen and spaces may form between them.
If you notice any signs of gum recession or disease, communicate your concerns to your cosmetic dentist. The earlier such problems are caught, the more easily they can be treated.
Treating Gum Recession
Because recession is caused by an underlying condition or environment factor, the best way to stop it is to identify and treat the cause. If gums are receding due to teeth grinding, for instance, a dentist can recommend a night guard or alternative treatment to prevent it.
More commonly, though, periodontal care is necessary in the treatment of gum disease and therefore recession. If basic hygiene and professional cleanings are not effective in the prevention of gum disease, additional periodontal treatment may be necessary. With a deep cleaning or flap surgery, pockets of infection can be cleaned and treated, and the gums reattached to teeth.
To restore lost gum tissue and stimulate new tissue growth, your dentist may recommend a gingival graft. By taking tissue from elsewhere in the mouth and grafting it within the gum line, tissue regeneration may be possible. Speak with your dentist about the possibility of a soft tissue graft and whether it can permanently help your smile.
Schedule a Consultation
Gum recession can be difficult to diagnose at home and even harder to treat. Schedule a consultation with Dr. Zarger to learn more about the health of your gums and what you can do to protect them.
Related to This