Is it Time for a New Toothbrush?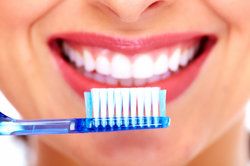 Go into any drugstore in Knoxville, and you'll find just about every style of toothbrush imaginable. You may already have multiple new toothbrushes, in their original packaging, beneath your bathroom sink. How can you know when your toothbrush's life is over? When should you throw it away and start new, with a fresh brush? At dental checkups, general dentist Thomas G. Zarger, Jr. explains to patients the importance of using proper tools and products for oral care as similar to using the right tools and products on your lawn. Dull mower blades make cutting the grass difficult. Likewise, worn-out toothbrush bristles do a poor job of cleaning teeth.
Traits of a Good Toothbrush
According to the American Dental Association, people should invest in a new toothbrush every three to four months. You may think that the more expensive, name brand toothbrushes will last longer than cheap varieties. However, the reason for replacing toothbrushes on a set timeline has more to do with the bacteria they can accumulate than their physical wear. That's not to say that wear is not a factor in the life of a toothbrush. How hard you brush, where you store your toothbrush, and the qualities of the brush have an impact on how the tool holds up, long-term.
If your toothbrush displays any of these characteristics, move on to a new brush:
Frayed bristles
Bent bristles
Loss of bristles
Discoloration of bristles
Increased flexibility of brush handle/head
Any broken, loose, or worn parts
Contamination Comes into Play
Every time you have a communicable disease, such as a cold, flu, or virus, your toothbrush comes into contact with the bacteria that cause the disease. If you're sick (or all the time, if you prefer), use an antibacterial mouthwash prior to and after brushing and flossing. After brushing, saturate the bristles of your toothbrush with the mouthwash to reduce microorganisms that could grow on your toothbrush. Never share your toothbrush or store it in the same vessel as other people's toothbrushes.
Selecting the Right Toothbrush
When you're facing a wall of toothbrushes, making a decision can seem difficult. Know that electric toothbrushes don't clean teeth better than manual brushes, but studies show that people tend to brush longer with electric toothbrushes. The length of time one brushes does increase the cleanliness of teeth.
Don't rely only on visual stimulation, meaning don't just pick your favorite color and style. The first item on your evaluation list should be bristle strength: soft, medium, or hard. Unless Dr. Zarger recommends differently, go with soft bristles that have rounded tips. Then consider size. For example, if you have small hands and a small mouth, select an appropriately sized brush. Note that toddlers and children have super-small brushes, made to fit their hands and mouths.
Caring for Your Toothbrush
Scientists believe that the human mouth harbors over 600 different varieties of bacteria. Because the mouth offers direct access to the body's internal organs via the throat, proper oral health care is important to overall health. Twice a day, if you're following Dr. Zarger's recommendation, your mouth is subjected to your toothbrush and all of the bacteria living on it. For this reason, you must keep your toothbrush clean. Here are a few tips for toothbrush care:
Do not store your toothbrush among other people's brushes.
Thoroughly rinse your brush with mouthwash or tap water, focusing on cleaning the bristles, after each use.
Do not cover your toothbrush or keep it in a sealed container.
Store your toothbrush in a dry, clean area, away from toilets.
Never share your toothbrush.
Schedule Your Consultation
As a general dentist, Dr. Zarger helps his patients maintain good oral health by providing checkups, cleanings, restorative dental care, and advice for proper home care. Dr. Zarger encourages patients to brush twice a day to remove plaque, tartar, and surface stains from tooth enamel. Flossing daily is also advised. Schedule an appointment with Dr. Zarger today to learn more about how to care for your smile.
Related to This