How Smoking Affects Your Oral Health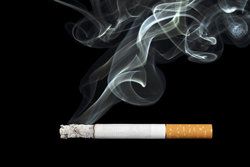 Serving the greater Knoxville area, Dr. Thomas G. Zarger has been providing comprehensive general dentistry services to enhance the dental health and smiles of patients. In addition to cleanings and basic restorative care, Dr. Zarger also provides info to patients about serious health topics that may affect them, such as the effects of certain substances on their smiles. With that in mind, let's consider the effects of smoking on your dental health.
Smoking Causes Bad Breath
One of the least troublesome effects of smoking on your dental health is bad breath. If you have bad breath already, the smoking will certainly make it worse. In addition, smoking can cause other kinds of dental problems that will result in bad breath as a side effect.
Smoking Causes Tooth Stains and Discoloration
If you smoke for long enough, your teeth will cease looking bright and white and will instead start to look dingy, yellowed, and unappealing. This is especially bad for people who have been smoking for decades, and can potentially make them self-conscious about laughing and smiling, even around their family and close friends.
Smoking Can Increase the Likelihood of Gum Disease
People who smoke are more prone to infection than people who do not smoke. Since gum disease is an infection of the gum tissue, smoking makes gum disease more likely. This can lead to a number of dental health issues, including tooth decay below the gumline, gum recession, bad breath, and even tooth loss.
Gum Recession Is More Likely If You Are a Smoker
Independent of gum disease, gum recession is more likely for smokers. This is because smoking has a negative effect on the soft tissue of the mouth, making it more likely for the gums to separate from the tooth structure.
Significant Risk Increase for Oral Cancer
That's correct: smoking will not just make lung cancer and heart disease more likely, it can also cause cancer of the mouth and throat. It's been estimated that smoking and the use of tobacco products is linked to three-quarters of all cases of oral cancer. That includes cancer of the tongue, the salivary glands, the jaw, and other parts of the mouth.
Treatments for Dental Health Issues Related to Smoking
When it comes to treating dental health problems related to smoking, you have plenty of options to consider. To address tooth discoloration, teeth whitening or porcelain veneers are good options to consider. When gum disease is the problem, an ideal option for care is the use of antibiotics and antiseptic rinses to get the infection under control. Gum grafting is often a good option for the treatment of gum recession, which helps rebuild the gumline.
Combinations of treatments are likely since discoloration of the teeth and gum disease are both common together for people who have been smoking for years.
Get Help Quitting or Simply Do Not Start
Obviously the best way to avoid all of these problems related to smoking is to quit smoking as soon as possible or just not start in the first place. If you need help quitting, be sure to consult your physician to find out what options may be helpful to you and your needs.
Schedule a Consultation for General Dental Care
If you would like to schedule a routine dental exam or find out about your many different options available for cosmetic and restorative treatment, be sure to contact our family dental care center today. Dr. Zarger and the entire team here looks forward to discussing your dental care concerns in greater detail and helping you have a beautiful, healthy smile.
Related to This