The Stages of Gum Disease: Your Periodontal Health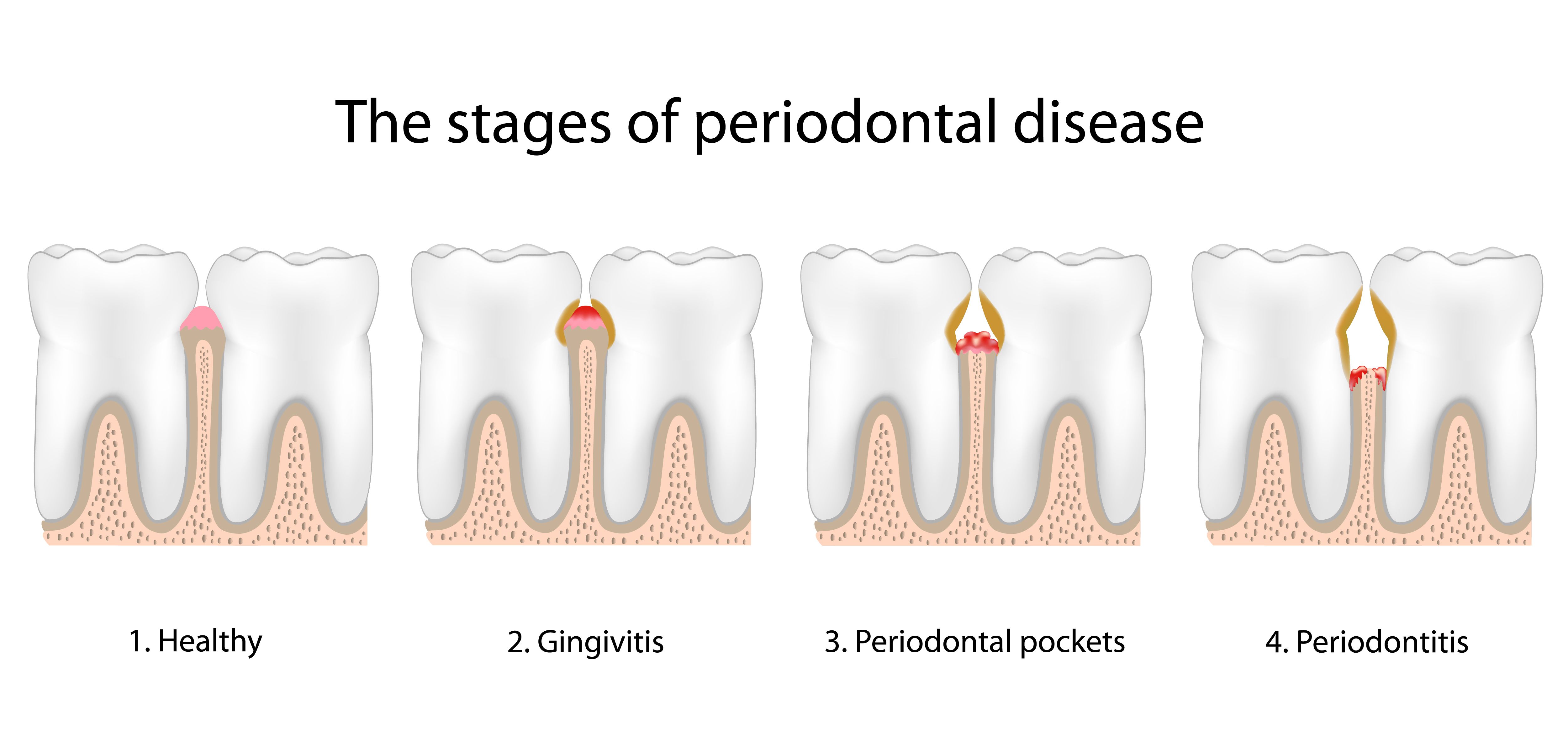 Patients often underestimate the damage that can be done by gum disease. Also known as periodontal disease, this infection of the gums can result in a whole host of serious dental health issues.
Gum disease doesn't happen all at once, of course. With that in mind, the team at our Knoxville dental care practice would like to consider the different stages of gum disease. We'll first cover the common signs and symptoms and then offer information about treatments and prevention.
Gingivitis
The initial stage of gum disease is known as gingivitis. It's typically caused by people failing to brush and floss regularly. Smoking and dry mouth can also increase your risk of developing gingivitis.
The relatively mild symptoms of gingivitis include:
Irritated gums
Bleeding gums
Discoloration of the gums
Bad breath (halitosis)
Strange taste in the mouth
Since gingivitis is an early stage of gum disease, it's the easiest to treat and does the least lasting damage. Damage done to the gum can be reversed with proper care.
Periodontitis
The next state of gum disease is known as periodontitis. The symptoms of this next stage of gums disease involve a worsening of gingivitis symptoms as well as the following:
Swollen gums
Gum recession
Loose teeth
Spaces growing between teeth
Because periodontitis results in gum recession and the exposure of the tooth roots, it's possible for people to develop tooth decay below the gumline as a result of this advanced stage of gum disease.
Advanced Periodontitis
Advanced periodontitis is the most severe state of gum disease, doing the most damage to all structures of the mouth. In addition to worsening of previous symptoms, common signs of advanced periodontitis include:
Major changes in tooth alignment
Tooth loss
Pus around teeth and gums
Spread of infection to other parts of the mouth
Given the damage that can be done by advanced periodontitis, patients may require extensive dental care to bring the problem under control.
Treatments for Gum Disease
When treating gum disease, it's important to bring the infection under control and then address the damage done to the gum tissue and other structures of the mouth.
As the first part of treatment, antiseptic rinses and medications may be used to help control oral bacteria. In advanced stages of gum disease, antibiotics may be used. Root planing and scaling is often recommended to help eliminate tartar build up that would make future gum disease more likely.
When restoring the damage done by gum disease, dentists have many options to consider. Gum grafting surgery can rebuild the gumline following recession. Dental restorations can help address tooth decay below the gumline. If a patient loses a tooth to advanced gum diseased, a bridge or other options may be considered.
Tips for Preventing Gum Disease
Since prevention is the ideal form of treatment, consider the following tips to help reduce your risk of gum disease:
Brush your teeth at least twice a day (ideally after every meal)
Floss your teeth at least once a day (ideally after every meal)
Avoid using tobacco products
Drink water to remain hydrated
Eat a healthy, well-balanced diet
Visit your dentist twice a year for regular checkups
Learn More About Your Dental Care Options
If you would like more information about fighting and preventing gum disease, we encourage you to contact and experienced cosmetic and restorative dentist today. Thomas G. Zarger, Jr., DDS and his team will help you smile with renewed confidence.
Related to This