Benefits of Replacing Old Amalgam Fillings with Composite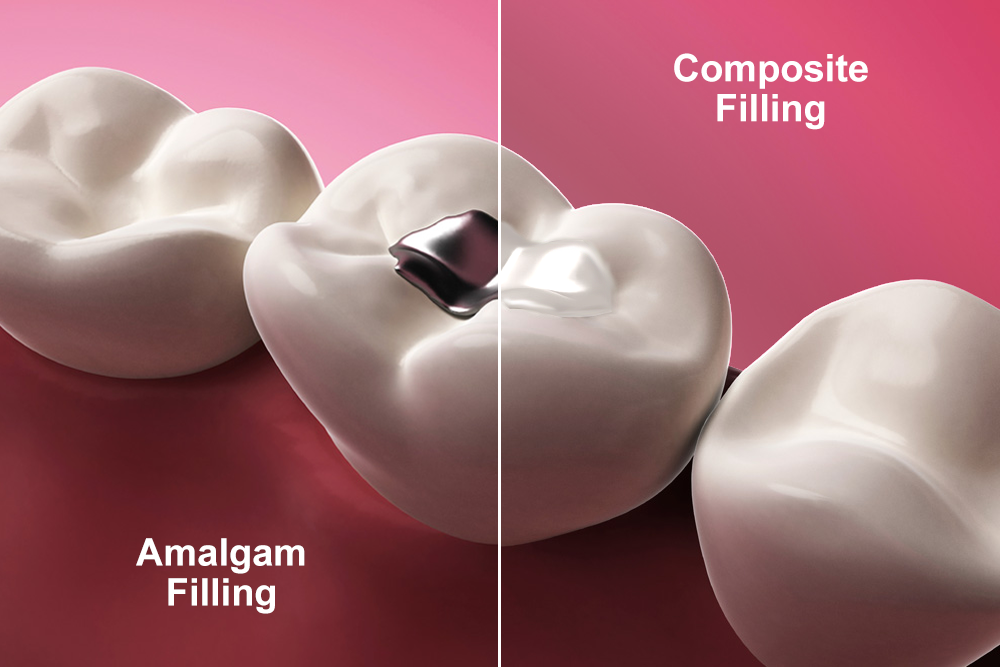 Restoring teeth with dental fillings is one of the oldest and time-tested procedures in dentistry. Until the 1990s, teeth were repaired with amalgam fillings, which are comprised of silver, tin, zinc, copper, and mercury. In fact, some dental offices still use amalgam today.
However, since the advent of composite fillings, many patients are replacing old amalgam fillings with this tooth-colored alternative. Here, our dental team in Knoxville, TN discusses the benefits of this treatment, and explores whether this option is right for you.
Concerns Regarding Amalgam Fillings
Throughout the years, information has surfaced concerning the use of amalgam fillings. Although they are strong and durable, they can also weaken the natural tooth structure over time. Here, we discuss some of the most common concerns regarding amalgam fillings.
Amalgam Reacts to Temperature Fluctuations
Because amalgam is made of a metallic mixture, the compound expands when heated and shrinks when cold. While these minute movements may not have a negative impact initially, they can affect the overall tooth structure over time. In some cases, a tooth may even crack as a result.
Amalgam Contains Mercury
For years, there has been significant controversy surrounding the mercury in amalgam fillings. Some experts claim that mercury is poisonous to the body, and can lead to issues with the nervous system, cognition, and other problems. Although there has been no direct evidence to date suggesting that amalgam fillings are detrimental to your health, many individuals have decided to take the safe route and have them removed.
Amalgam is Visible
Metal fillings do not blend in with your surrounding teeth. In fact, they are quite noticeable. This is one of the most common reasons patients decide to replace old amalgam fillings with composite.
Benefits of Composite Fillings
Composite resin is a high-quality dental material that can be color-matched according to the patient's needs. These cosmetic fillings have grown exponentially in popularity since their invention. Here are a few of the advantages of composite restorations.
Composite Does Not React to Temperature Changes
In contrast to their amalgam counterparts, composite fillings do not expand or contract with temperature changes. Therefore, your natural tooth structure will remain resilient to breakage and damage.
Composite Does Not Contain Mercury
Resin composite contains no traces of mercury. In fact, these restorations are tissue-friendly and biocompatible. Therefore, those who are worried about the health hazards of mercury need not worry when having composite fillings placed.
Composite is Aesthetically Pleasing
As you can imagine, one of the most significant perks of composite fillings is that they blend in seamlessly with your smile. Composite resin can be meticulously color-matched to your surrounding teeth.
Composite Bonds Directly to the Tooth
When amalgam fillings are placed, they simply plug the void and nothing more. Think of filling a pothole; an amalgam restoration works the same way. In comparison, a composite filling bonds directly to the tooth structure as it fills the cavity. Therefore, the natural tooth and the filling work together as one, preserving your oral health for years to come.
Contact Us for More Information
If you have been considering replacing your old amalgam fillings with composite restorations, our family dental practice can help. To schedule a consultation, call us at (865) 693-7631 or contact us online anytime.
Related to This