AN EARLY ORAL CANCER DIAGNOSIS CAN HELP SAVE YOUR LIFE
Oral cancer is a serious, life-threatening disease. The American Dental Association estimates that about 10,000 people are killed by the condition each year. Dr. Thomas G. Zarger, Jr. conducts an oral cancer screening as part of every preventive dental exam. As a dentist, he has the tools and training to detect underlying signs of oral cancer that may not be visible to the untrained eye. The earlier cancer is detected, the earlier it can be treated and the higher your chances of survival are. As a strong believer in preventive care, Dr. Zarger emphasizes the importance of this exam in helping patients maintain not only their oral health but their overall well-being at his Knoxville, TN, practice.
Are You at Risk?
Oral cancer can affect virtually anyone. However, there are certain factors that can cause you to be at a higher risk of the disease. These include:
Smokers: 80 percent of those diagnosed are tobacco users.
Excessive alcohol drinkers: 70 percent of those diagnosed drink alcohol heavily.
Age: Patients over the age of 50 are at higher risk, and the average age at diagnosis is 62.
Men: Men are twice as likely as women to develop the disease.
HPV: Patients infected with human papillomavirus (HPV) can develop oropharyngeal cancer.
Diet: Studies have shown a link between nutrient deficiencies and the disease.
UV exposure: Patients with excessive sun exposure have an increased risk.
The Cancer Treatment Centers of America has also found other, less common risk factors such as genetics. If any of these apply to you, you should undergo an oral cancer screening in the near future.
A professional screening can help detect cancer early, ensure the most treatment options, and increase your chances of survival.
Common Signs and Symptoms
The symptoms of oral cancer commonly begin with no pain. However, the condition can cause great physical discomfort as it progresses. The symptoms can affect any part of your oral cavity including your lips, gums, tongue, cheeks, and upper throat. They often include:
Red patches
White lesions
Bleeding or persistent sores
Lumps or thickening of your soft tissue
If these symptoms persist for more than two weeks, it is important to schedule a visit to our office right away. Those with progressed oral cancer may also experience pain, numbness, and difficulty chewing or speaking.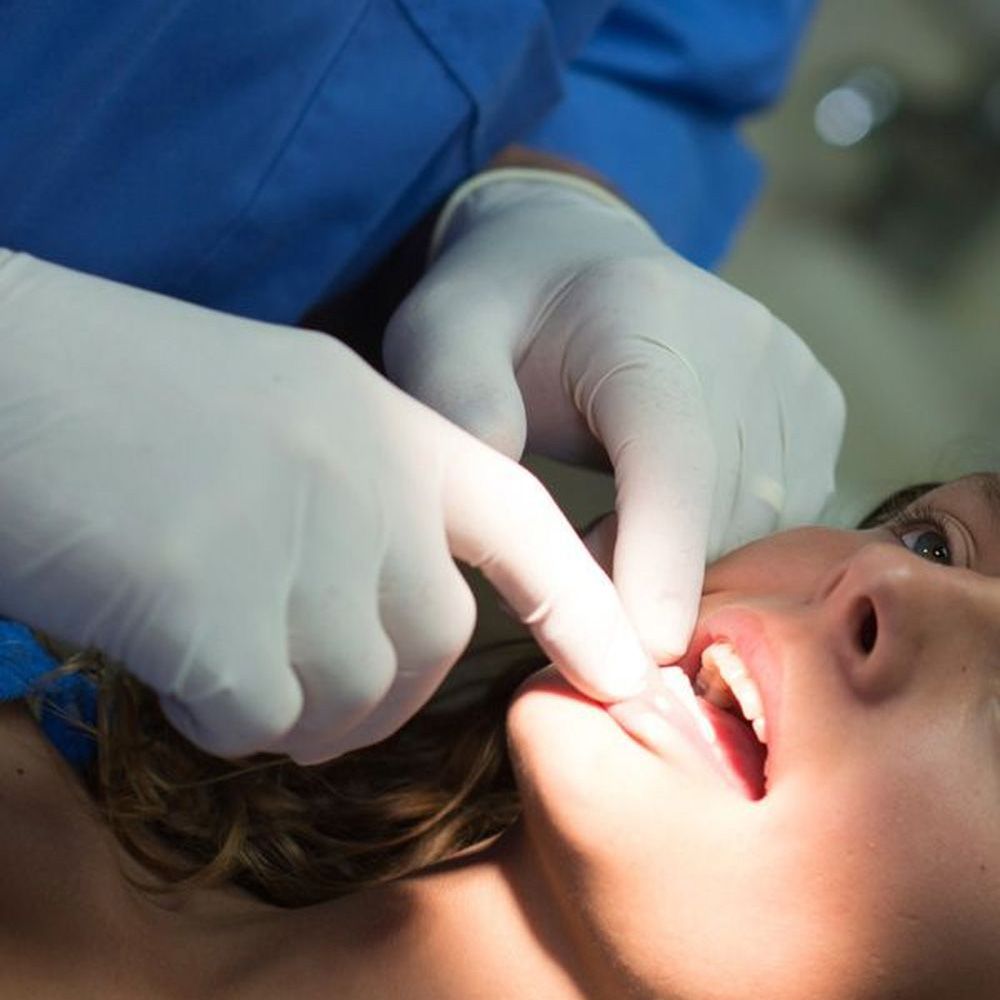 What to Expect During Your Exam
During your dental exam, Dr. Zarger will perform a visual screening of your oral cavity and check for abnormalities on your gums, tongue, and upper throat. He will also feel for lumps in your neck, cheeks, and head. If he detects anything out of the ordinary, he may order additional testing including a biopsy. A biopsy is a minimally invasive test where cells are swabbed from the insides of your cheeks and sent to a lab for further diagnosis.
The Importance of a Regular Screening
According to the Academy of General Dentistry, approximately 50,000 Americans will be diagnosed with oral cancer this year. Additionally, one person dies from oral cancer every hour of every day. However, there are treatment options available including surgery, radiation, and chemotherapy. Because this cancer has a high mortality rate, studies have concluded that early detection is the most effective way of reducing your risk of permanent disfigurement or death.
Schedule Your Screening Today
A professional screening can help detect cancer early, ensure the most treatment options, and increase your chances of survival. Dr. Zarger will perform a screening as part of your next dental exam. In the meantime, avoid habits such as smoking, excessive sun exposure, and heavy alcohol consumption, as these can increase your risk of the disease. Schedule your oral cancer screening today by contacting us online or calling us at (865) 693-7631.