ROOT CANAL THERAPY RELIEVES PAINFUL SYMPTOMS
Contrary to popular belief, a root canal does not cause pain - instead, it can relieve painful symptoms while helping you avoid the need for tooth extraction. Dr. Thomas Zarger provides gentle root canal therapy at his Knoxville, TN, practice. By removing infected tissue and placing a dental crown, Dr. Zarger can restore the health, comfort, and aesthetics of your smile.
About Root Canal Therapy
Root canal therapy involves removing the pulp, or inner tissue, of a tooth. The pulp consists of blood vessels, nerves, and connective tissue. When decay advances past the outer layers of a tooth, or if trauma results in the exposure of the pulp, this tissue can become infected, and must be removed in order to avoid the need for extraction. This involves emptying not only the primary pulp chamber, but also the inside of the tooth roots, or root canals. Without a root canal, the tooth may become too compromised to save, and the infection can lead to gum disease, jawbone degradation, and other health issues.
Dr. Zarger and his qualified team are dedicated to helping patients achieve and maintain healthy smiles using comfortable and effective treatments.
Signs You May Need a Root Canal
Symptoms of infected pulp are often hard to ignore. Common signs include:
Severe toothache (particularly when chewing)
Pronounced sensitivity to temperature changes
Tooth discoloration
Swelling or tenderness in nearby gum tissue
Persistent or recurring pimples or other lesions on the gums
What to Expect during the Procedure
A modern root canal procedure is no more painful than receiving a filling. From the removal of tissue to the restoration of the tooth, a root canal often takes two office visits to complete. In order to maintain your comfort, Dr. Zarger provides a local anesthetic. Once the patient is comfortable, a rubber dam is placed around the tooth to keep the site dry. A small access hole is then created in the outer layers of the tooth, granting access to the pulp chamber. Once the pulp has been completely removed, Dr. Zarger will thoroughly disinfect the inside of the tooth.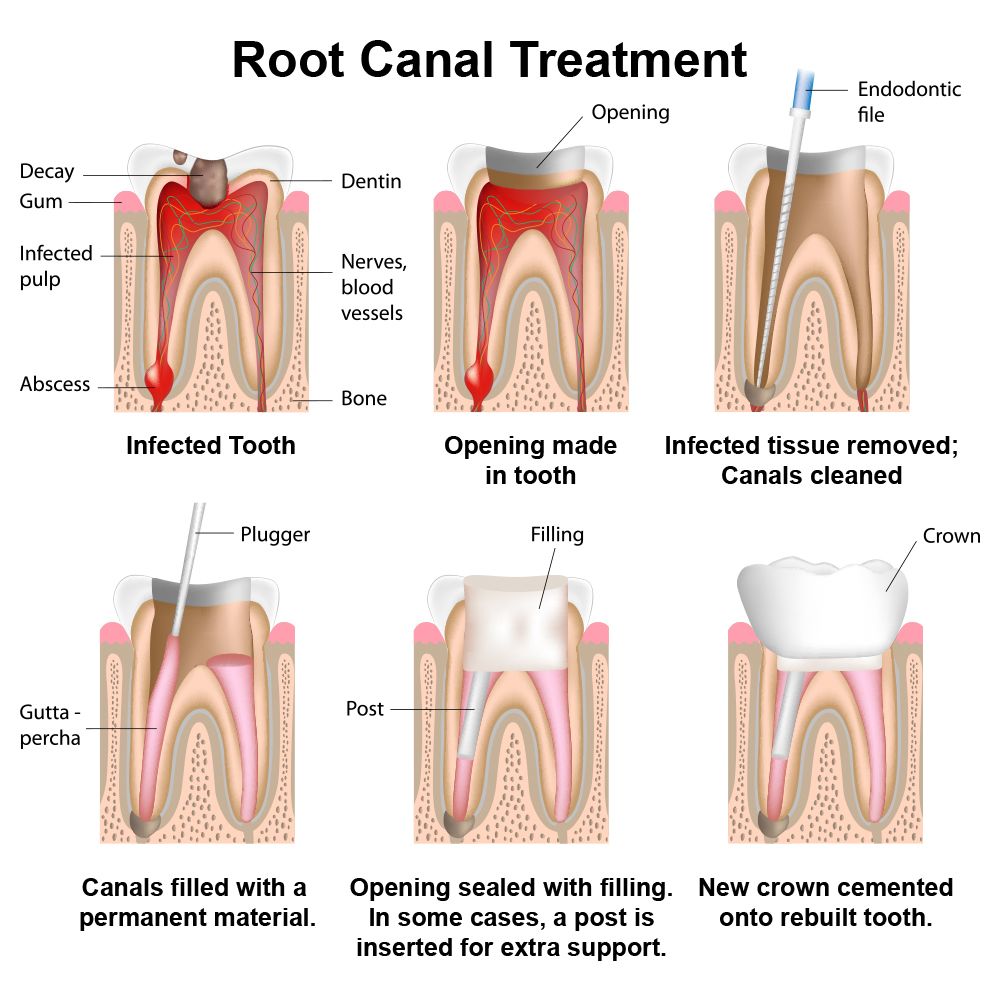 The tooth is then filled with a rubber-like substance and sealed. Dr. Zarger may need to refine the tooth to accommodate a crown. Once this preparation is complete, he will take an impression of the tooth. Next, he will place a temporary crown. Over the course of about two weeks, technicians will use the impression of your treated tooth to create your custom dental crown. Once the permanent crown is complete, you will return to our office to have it placed. Dr. Zarger will check the fit of the crown and make any adjustments necessary to ensure that your bite is comfortably balanced.
Contact Us Today
Dr. Zarger and his qualified team are dedicated to helping patients achieve and maintain healthy smiles using comfortable and effective treatments. If you are experiencing symptoms of an infected tooth, we are here to help. Reach out today to schedule a consultation. After a thorough exam, Dr. Zarger can determine if a root canal or other treatment is the best way to restore the health and comfort of your smile. We can also tailor a full mouth reconstruction for patients who require more extensive restorative care.